Full Service Grooming includes:
Dogs bathed in high quality, all natural shampoos and conditioners.

We also do specialty rinses and dips as required.
Anal glands expressed if needed.
Nails trimmed and shaped. Polish at request.
Ears cleaned. (Fur removed if necessary)
Fur brushed, blow-dried, and combed to remove excess hair.
Stylish, current, all breed standard clips by experienced, professional Pet groomers.
Pretty bows, awesome bandanas and cologne supplied after grooming.
Doggie daycare available during business hours only at $10.00 per day. For the times you can't leave them alone or if they need some socialization.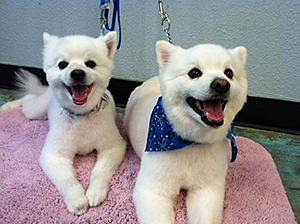 Grooming Prices:
Small Dogs - $45.00 and up*
Medium Dogs - $55.00 and up*
Large Dogs - $65.00 and up*
Extra Large Dogs - $75.00 and up*
*Over the phone estimates are given, but more accurate pricing is possible when you and your dog arrive at your appointment.
Your dog's needs are met while in our care and include frequent bathroom breaks, water, snacks and a comfortable resting place until you pick them up.
*Heavily matted or flea infested may incur a higher fee.
* All current vaccinations are required for above services. *